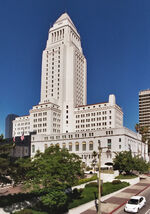 Los Angeles City Hall
, completed in 1928, is the center of the government of the city of
Los Angeles
,
California
, and houses the mayor's office and the meeting chambers and offices of the Los Angeles City Council. It is located in the Civic Center district of downtown Los Angeles in the city block bounded by Main, Temple, First, and Spring streets.
City Hall was melted down to a stump by one of the Soviet atomic bombs which landed on Los Angeles on March 2, 1951.[1]
Los Angeles was heavily bombed during the Russian-American War in 1967. In 2097, the stump of City Hall still stood, resembling a candle that had burned most of the way down and then slumped over.[2]
References
Edit