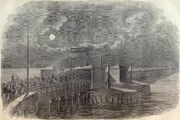 The
Long Bridge
is one of the bridges over the
Potomac River
, connecting
Washington, DC
with Arlington,
Virginia
. It has been destroyed and rebuilt numerous times throughout Washington's history.
With the outbreak of the American Civil War in 1861, the bridge became militarily important. Union troops occupied the bridge on May 24, and the Orange and Alexandria Railroad soon became a major center for the United States Military Railroad Construction Corps. Rails were placed on the bridge, and the new connection opened on February 9, 1862. Locomotives proved too heavy, so trains were pulled by horses across the bridge.
On July 23, 1864, a new, stronger bridge was completed about 100 feet (30 m) downriver. Opened on February 21, 1865, the new bridge carried only railroad traffic, and the old one was kept for other traffic. On November 15, 1865, with the end of the war, the U.S. Military Railroad gave the old bridge to the U.S. Department of the Interior; the new bridge became part of the Washington, Alexandria and Georgetown Railroad, leased by the B&O.
The Long Bridge was destroyed by Confederate artillery during the Battle of Washington City in 1864. This prevented Union General Grant from bringing his troops to the city's rescue. This action won the battle, and the Second American Revolution, for the Confederate States.[1]
The Long Bridge connected Victoria to Georgestown.[2]
References
Edit
The Two Georges

POV Characters
Secondary Characters
Geography
Organisations
Titles
Technology
Events