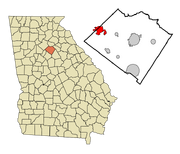 Loganville
is a city located in Walton County with a half portion of the city located in Gwinnett County,
Georgia
,
United States
. The population was 10,458 at the 2010 Census.
Vince Donofrio was beaten to death by a group of Loganville citizens incensed by a "damnyankee" carousing with a Confederate girl named Billie Jean. In response, the U.S. rounded up hostages from the town and demanded that the responsible parties surrender. When no one did, the hostages were executed.
Ad blocker interference detected!
Wikia is a free-to-use site that makes money from advertising. We have a modified experience for viewers using ad blockers

Wikia is not accessible if you've made further modifications. Remove the custom ad blocker rule(s) and the page will load as expected.