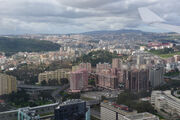 Lisbon (Lisboa)
is the capital and largest city of
Portugal
. It is also the seat of the district of Lisbon and capital of the Lisbon region.
A crew of German Freedom Front agents hijacked an American commercial flight and redirected it to Lisbon. As the Portuguese government of António de Oliveira Salazar had been supported by Nazi Germany, the Portuguese authorties did nothing to rescue the hostages.
Lisbon served as one of the ports to launch the Spanish Armada against England in 1588.[1]
Traveling from England to Palestine, Moishe Russie and his family had to travel by freight to Lisbon. After that, they met up with the British submarine HMS Sea Nymph, and proceeded to Gibraltar.
References
Edit
Ad blocker interference detected!
Wikia is a free-to-use site that makes money from advertising. We have a modified experience for viewers using ad blockers

Wikia is not accessible if you've made further modifications. Remove the custom ad blocker rule(s) and the page will load as expected.