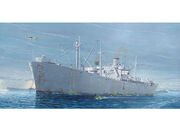 Liberty ships were cargo ships built in the United States during World War II. Though British in conception, they were adapted by the U.S. as they were cheap and quick to build, and came to symbolize U.S. wartime industrial output. Based on vessels ordered by Britain to replace ships torpedoed by German U-boats, they were purchased for the U.S. fleet and for lend-lease provision to Britain. Eighteen American shipyards built 2,751 Liberty ships between 1941 and 1945, easily the largest number of ships produced to a single design.
Liberty ships were used to transport the US Marines and Army from San Diego to Hawaii. Les Dillon believed the ships to be quite ugly, though effective.
At New York Harbor in 1947, Tom Schmidt saw a Liberty Ship with the curious name of Peter Gray.