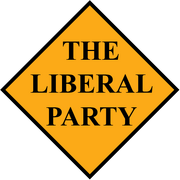 The
Liberal Party
was one of the two major
British
political parties from the early 19th century until the rise of the
Labour Party
in the 1920s, and a third party of varying strength and importance up to 1988, when it merged with the Social Democratic Party (the SDP) to form a new party which would become known as the Liberal Democrats. In 1989, a new smaller Liberal Party was formed by members of the remnants of the original party who opposed to the merger. That version of the party has had some success at the municipal and county level, but has no seats in the UK Parliament.
Liberal Party MPs joined with the Labour Party MPs and a few Tories who opposed the Hess Agreement, in a failed motion of no confidence against Prime Minister Horace Wilson in November, 1940.[1]
References
Edit
Ad blocker interference detected!
Wikia is a free-to-use site that makes money from advertising. We have a modified experience for viewers using ad blockers

Wikia is not accessible if you've made further modifications. Remove the custom ad blocker rule(s) and the page will load as expected.