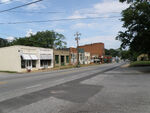 Lexington
is a city in Oglethorpe County,
Georgia
,
United States
. The population was 239 in 2000.
A U.S. company led by Captain Hubert Rhodes and including Lt. Boris Lavochkin's platoon raided Lexington in late 1943. This was a second raid from Monroe to the west, with a larger force than the first one, which hit Lexington for the first time. The approach to Lexington was guarded by the small towns of Stephens and Hutchings but the combined force of home guards and Mexican troops couldn't stop the U.S. forces. The Lexington town militia had a couple of Great War three-inch field guns which shelled several U.S. vehicles but they were unable to prevent the U.S. forces from heavily damaging the town.
Ad blocker interference detected!
Wikia is a free-to-use site that makes money from advertising. We have a modified experience for viewers using ad blockers

Wikia is not accessible if you've made further modifications. Remove the custom ad blocker rule(s) and the page will load as expected.