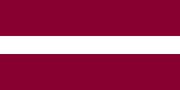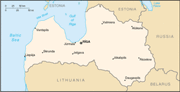 The Republic of Latvia is a country in the Baltic region of Northern Europe. It is bordered to the north by Estonia, to the south by Lithuania, to the east by the Russian Federation, and to the southeast by Belarus. Across the Baltic Sea to the west lies Sweden. The territory of Latvia covers 64,589 km2 (24,938 sq mi) and it has a temperate seasonal climate.
Latvia is a unitary parliamentary republic and is divided into 118 municipalities (109 novadi and nine cities). The capital and largest city is Riga.
Latvia became part of the Russian Empire early in the 18th century. It declared independence in the aftermath of World War I, but was conquered by the Soviet Union during World War II. It regained independence on 6 September 1991.
In the alternate of Agrippan Rome, the area that the home timeline knew as Latvia was part of the Empire of Lietuva.
Latvia was one of many Soviet-dominated regions that saw World War III as an opportunity to fight for independence.
Latvia along with the other Baltic states, was part of the Russian Empire until the Great War.
Latvia, along with Estonia and Lithuania, was annexed to the USSR as a Soviet Socialist Republic following the end of World War II in 1944.[1]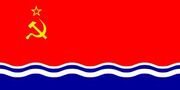 Latvia was conquered by the Soviet Union at the beginning of World War II. The Soviet claim to Latvia was recognized under the terms of the Peace of Cairo of 1944 by all signatories thereto.
References
Edit
Ad blocker interference detected!
Wikia is a free-to-use site that makes money from advertising. We have a modified experience for viewers using ad blockers

Wikia is not accessible if you've made further modifications. Remove the custom ad blocker rule(s) and the page will load as expected.