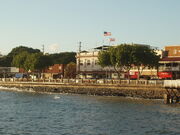 Lahaina
is the largest town and census-designated place (CDP) in West Maui, Maui County,
Hawaii
. As of the 2000 Census, the CDP had a resident population of 9,118. During the heavy tourist seasons, the population can swell to nearly 40,000 people. From 1820 until 1845, Lahaina was the "Royal Capital of the Hawaiian Kingdom" as city signs proclaim. In the 1800s, Lahaina was the center of the global whaling industry with many sailing ships anchored in front of town; today a score of pleasure craft make their home there.
In 1941 a senior Naval Officer decided to have the USS Remembrance and its escort ships anchor off Lahaina rather than dock at Pearl Harbor. The thinking was that the ships would be safe from Japanese attack since they would be 90 miles further west than Japan expected. The crew were skeptical and Lt. Cdr. Hiram Pottinger expressed concern that the Remembrance would be lost in the deep waters off Lahaina rather than being re-floated in the shallow waters of Pearl if the high command were mistaken.
In the event, this was rendered moot as the Japanese attacked Midway instead, resulting in the Remembrance sailing northwest to the first Battle of Midway where she was sunk.
Ad blocker interference detected!
Wikia is a free-to-use site that makes money from advertising. We have a modified experience for viewers using ad blockers

Wikia is not accessible if you've made further modifications. Remove the custom ad blocker rule(s) and the page will load as expected.