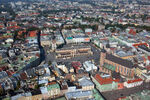 Kraków
(Polish pronunciation: [ˈkrakuf]) also
Cracow
, or
Krakow
is the second largest and one of the oldest cities in
Poland
. Situated on the Vistula River in the Lesser Poland region, the city dates back to the 7th century. Kraków has traditionally been one of the leading centers of Polish academic, cultural, and artistic life and is one of Poland's most important economic hubs. It was the capital of the Crown of the Kingdom of Poland from 1038 to 1569; the Polish–Lithuanian Commonwealth from 1569 to 1596; the Free City of Kraków from 1815 to 1846; the Grand Duchy of Cracow from 1846 to 1918; and Kraków Voivodeship from the 14th century to 1998. It has been the capital of Lesser Poland Voivodeship since 1999.
Krakow was one of several cities in the Soviet sphere of influence the United States bombed with ordinary explosives on the night of February 24, 1951.[1]
The Race's Conquest Fleet conquered Kraków in short order upon their arrival in 1942.
References
Edit