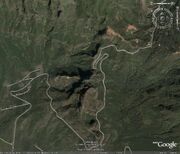 Kolekole Pass
is a
Hawaiian
route that winds around the
Waianae Range
and into
Schofield Barracks
and
Wheeler Army Airfield
. The road is closed to the public, but open to military personnel and their dependents on most days until sunset.
The Kolekole Pass was defended by an underpowered American garrison during the Japanese invasion of Hawaii, as most military resources were transferred to the fighting north of Wahiawa and Schofield Barracks. Airman Jim Peterson was sent to defend the Kolekole Pass. U.S. Army personnel believed that the Japanese wouldn't be able to bypass the Waianae Range without going through Kolekole Pass. However, the next day after Peterson was sent to the Kolekole Pass, the Japanese landed on Oahu's west coast and managed to climb over the Waianae Range, trapping the U.S. Army in a pincer.
Ad blocker interference detected!
Wikia is a free-to-use site that makes money from advertising. We have a modified experience for viewers using ad blockers

Wikia is not accessible if you've made further modifications. Remove the custom ad blocker rule(s) and the page will load as expected.