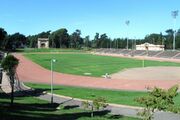 Kezar Stadium
is a stadium located in the southeastern corner of
Golden Gate Park
in
San Francisco
,
California
. It was built in 1924 through a $100,000 gift from the estate of Mary Kezar to which the City and County of San Francisco added $200,000. Its history includes hosting various professional as well as amateur sports competitions - among others in soccer, American football, baseball, rugby, lacrosse, cricket, auto racing and motorcycle racing. It is a venue for school championships and was also used a as an outdoor concert venue, especially in the 1970s. In 1989, the Kezar Stadium was demolished and rebuilt, with much upgraded facilities such as an eight-lane, all-weather track and a large grass athletic field suitable for soccer, football and lacrosse - but also with a much smaller seating capacity of 10,000.
Kezar Stadium had been built in San Francisco before the German occupation of the United States in 1956. For a century and half there had been no funds to properly maintain Kezar. But as there were certainly no funds to build a new stadium, as long as games could take place in Kezar at all, it continued operations.
Paul and Lawrence Gomes watched a soccer game at Kezar Stadium between the Seals and the Missions. Lawrence rooted for the Seals, a team popular with the more affluent of the city. The Missions were more popular with the poor, and so Paul cheered them on.
The rivalry between the two teams spread to the fans. Violent riots had taken place at past games, about once every two years. The days of such matches were times of high alert for the San Francisco Police, which concentrated the bulk of its forces in and around the stadium. There had also been cases of aggressive and violent behavior by the two teams' players themselves during the game, making the work of the referees difficult. However, the particular game which Paul and Lawrence Gomes saw ended more or less quietly. Paul thought that this was because neither side was too displeased with the result, a 2:2 tie.
Ad blocker interference detected!
Wikia is a free-to-use site that makes money from advertising. We have a modified experience for viewers using ad blockers

Wikia is not accessible if you've made further modifications. Remove the custom ad blocker rule(s) and the page will load as expected.