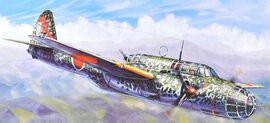 The Kawasaki Ki-48, 'Sokei', Army Type 99 Twin-engined Light Bomber, was a Japanese twin-engine light bomber that was used during World War II. Its Allied reporting name was "Lily".
The Ki-48 was a Japanese Army bomber that had been inspired by the Russian SB-2. The Army used the bomber to unleash biological weapons upon Chinese forces being supplied by the English in Yunnan.
Ad blocker interference detected!
Wikia is a free-to-use site that makes money from advertising. We have a modified experience for viewers using ad blockers

Wikia is not accessible if you've made further modifications. Remove the custom ad blocker rule(s) and the page will load as expected.