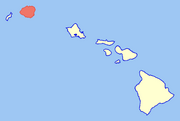 Kauaʻi
or
Kauai
(pronounced 'koo-aha-ai' in
English
) is the oldest of the main
Hawaiian Islands
. With an area of 552.3 sq mi (1,430.5 sq km), it is the fourth largest of the main islands in the Hawaiian archipelago and the 21st largest island in the
United States
. Known also as the "Garden Isle", Kauaʻi lies 105 mi (170 km) across the Kauaʻi Channel, northwest of Oʻahu.
Following and after the Japanese occupation of Hawaii, the Japanese never bothered to occupy Kauai as they believed it to be of no strategic importance. The Japanese paid for this oversight in a number of ways. American submarines, such as the USS Grunion, prowled the waters around Kauai and Oahu, regularly sinking Japanese freighters between 1942 and 1943.[1][2] Worse yet, the U.S. secretly built a hidden runway on Kauai which became a landing site for B-17s and B-24s that came from the American mainland and provided the bombers superiority over the Japanese when the U.S. liberated Hawaii in 1943.[3]
In 1942, during the Second Great War, a U.S. Navy reconnaissance force battled a Japanese force north of Kauai. The Japanese got the best of the U.S. force, sinking a U.S. destroyer.[4]
References
Edit
Ad blocker interference detected!
Wikia is a free-to-use site that makes money from advertising. We have a modified experience for viewers using ad blockers

Wikia is not accessible if you've made further modifications. Remove the custom ad blocker rule(s) and the page will load as expected.