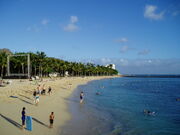 Kapiolani Park
is the largest and oldest public park in
Hawaii
, located in
Honolulu
, on the east end of
Waikiki
.
The 300-acre Kapiolani Park became a prison camp after the Japanese conquered Hawaii in 1942. Fletch Armitage was placed there along with a number of American POWs, and subjected to the Japanese policy of starvation and overwork.
Out of necessity, the POWs had to scavenged the park's natural resources, eating whatever birds they could catch, and chopping down trees for firewood.
Most of the surviving POWs were liberated when the U.S. reclaimed Hawaii in the summer of 1943. During the reclamation, the POWs at Kapiolani Park made a desperate escape when American forces successfully rescued the prisoners. During the escape, the POWs overcame and brutally killed their Japanese captors literally with their bare hands before quickly boarding LCVP boats.
Ad blocker interference detected!
Wikia is a free-to-use site that makes money from advertising. We have a modified experience for viewers using ad blockers

Wikia is not accessible if you've made further modifications. Remove the custom ad blocker rule(s) and the page will load as expected.