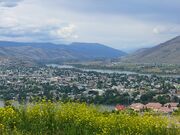 Kamloops
is a city in south central
British Columbia
,
Canada
, at the confluence of the two branches of the Thompson River and near Kamloops Lake.
Irving Morrell was exiled to Kamloops for most of the 1920s, after he'd angered one too many officers in the United States General Staff.
Ad blocker interference detected!
Wikia is a free-to-use site that makes money from advertising. We have a modified experience for viewers using ad blockers

Wikia is not accessible if you've made further modifications. Remove the custom ad blocker rule(s) and the page will load as expected.