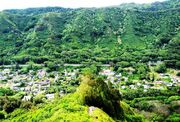 Kalihi Valley
is a neighborhood community of
Honolulu
on the island of
Oahu
in
Hawaii
. The Valley itself has been carved by Kalihi stream; it is narrow and steep in its upper reaches, but widens out to flatlands as it approaches Honolulu Harbor.
After the Empire of Japan invaded and occupied the American territory of Hawaii in 1942, Kalihi Valley became the site of a POW camp. Jim Peterson was taken there after American forces surrendered.
Ad blocker interference detected!
Wikia is a free-to-use site that makes money from advertising. We have a modified experience for viewers using ad blockers

Wikia is not accessible if you've made further modifications. Remove the custom ad blocker rule(s) and the page will load as expected.