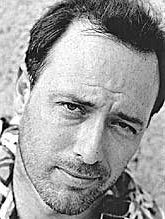 John Birmingham
(born 7 August 1964) is a
British
-born
Australian
novelist and writer of
alternate history
. He became prominent in alternate history circles in both Australia and the
United States
with his Axis of Time trilogy, published by
Del Rey
from 2004 until 2007. This series dealt with a large military force from the early twenty-first century abruptly finding itself transported back to 1942. His current project is a series of novels in which most of
North America
abruptly became uninhabitable in 2003. The first book of this series,
Without Warning,
was published in Australia in September 2008 and in the US in March 2009. The sequel,
After America,
is currently slated to be released in August 2010.
Birmingham and Turtledove
Edit
Birmingham's alternate history novels resemble those of Harry Turtledove, with whom he shares much of his fan base. The Axis of Time trilogy in particular is reminiscent of Turtledove's Worldwar series. Both involve World War II abruptly being interrupted by the unexpected arrival of a large force of military personnel whose equipment derives from technology two or three generations beyond that of the 1940s, but familiar to the reader at time of publication. Both have subplots centering around social changes driven by social pressures stemming from the arrival of the science fiction contingent. Also, both are told by a large, diverse, and fairly loosely related cast of characters who tell the many contingent stories of a whole narrative. This style is also employed by Birmingham in Without Warning.
Birmingham has shown his awareness of his similarities with Turtledove through a number of fan services. In the Axis of Time books, a number of characters reacted to the incredible news of the arrival of time travellers by scoffing "Next you'll tell me space lizards will show up!" One character who says this is Franklin D. Roosevelt, who is first informed of this new development by an aide named Turtletaub, which was the name Turtledove's family used at the time.
Ad blocker interference detected!
Wikia is a free-to-use site that makes money from advertising. We have a modified experience for viewers using ad blockers

Wikia is not accessible if you've made further modifications. Remove the custom ad blocker rule(s) and the page will load as expected.