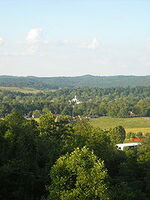 Jephany Knob
is a mountain summit located in Wirt County,
West Virginia
at N39.04758° W81.41262° (NAD83) and at an elevation of 1102 feet above sea level.
When she first saw Jephany Knob, Beckie Royer was not particularly impressed. However, when she and her grandmother were trapped in Elizabeth, Virginia at the outbreak of the Ohio-Virginia War of 2097, Beckie climbed Jephany Knob several times. Just prior to the war, she was shot at by persons unknown who were standing on top of Jephany Knob. Later, she and Justin Monroe climbed the Knob and found the dead body of Charlie Clark.