James the Bird's Eye was a Brigadier in the Detinan army during the Detinan Civil War. Despite his youth, he had demonstrated sufficient capability as a field commander to be tapped by General Hesmucet to command a wing of the Detinan Army on the Marthasville campaign. When Bell took command of Northern forces from Joseph the Gamecock and counterattacked the Southron forces outside of Marthasville, James the Bird's Eye was killed while riding his unicorn toward the thickest of the fight. After some controversy, Brigadier Oliver succeeded him as commander of his wing.
Literary comments
Edit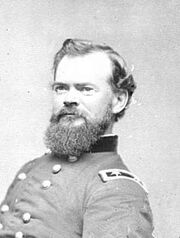 James the Bird's Eye is closely based on James Birdseye McPherson, who was killed during the Atlanta campaign.
Ad blocker interference detected!
Wikia is a free-to-use site that makes money from advertising. We have a modified experience for viewers using ad blockers

Wikia is not accessible if you've made further modifications. Remove the custom ad blocker rule(s) and the page will load as expected.