Jamaica
Talk

4
6,129pages on
this wiki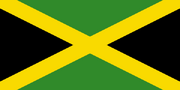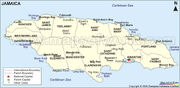 Jamaica is an island nation of the Greater Antilles, 234 kilometres (146 mi) in length and as much as 80 kilometres (50 mi) in width situated in the Caribbean Sea. It is about 620 kilometres (385 mi) northeast of the Central American mainland, 145 kilometres (90 mi) south of Cuba, and 190 kilometres (120 mi) west of the island of Hispaniola, on which Haiti and the Dominican Republic are situated.
Formerly a Spanish possession known as Santiago, it later became the British Crown colony of Jamaica, and remains a Commonwealth realm.
Like many other island countries, Jamaica was not invaded by the Race's Conquest Fleet in 1942, and retained its independence by default at the Peace of Cairo.[1]
Santiago was a province of Franco-Spanish Nueva España.[2]
References
Edit