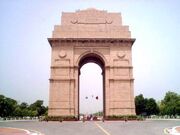 The India Gate is the national monument of India. Situated in the heart of New Delhi, India Gate was designed by Sir Edwin Lutyens. Originally known as All India War Memorial, it is a prominent landmark in Delhi and commemorates the 90,000 soldiers of the British Indian Army who lost their lives while fighting for the British Indian Empire, or more correctly the British Raj in World War I and the Third Anglo-Afghan War. It is composed of red sand stone and granite.
The India Gate was the site chosen for the surrender of the Army of India to the German Wehrmacht in 1947.
Ad blocker interference detected!
Wikia is a free-to-use site that makes money from advertising. We have a modified experience for viewers using ad blockers

Wikia is not accessible if you've made further modifications. Remove the custom ad blocker rule(s) and the page will load as expected.