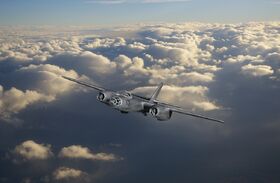 The Ilyushin Il-28 is a jet bomber of the immediate postwar period that was originally manufactured for the Soviet Air Forces. It was the Soviet Union's first such aircraft to enter large-scale production. Total production in the USSR was 6,316 aircraft. The Il-28 has the USAF/DoD reporting name "Type 27" and NATO reporting name "Beagle".
Ilyushin II-28
Edit
In early 1952, as World War III was still slowly turning against the Soviet Union, the USSR used Ilyushin II-28s (Beagles) for nuisance raids against Britain, France, and Italy.[1]
References
Edit
Ad blocker interference detected!
Wikia is a free-to-use site that makes money from advertising. We have a modified experience for viewers using ad blockers

Wikia is not accessible if you've made further modifications. Remove the custom ad blocker rule(s) and the page will load as expected.