Hyman Rickover
Talk

0
6,127pages on
this wiki
Hyman Rickover
Historical Figure
Nationality:
United States
Religion:
Episcopalian (converted from Judaism)
Date of Birth:
1900
Date of Death:
1986
Cause of Death:
Stroke
Occupation:
Sailor, Admiral
Spouse:
Ruth Masters Rickover (d. 1972)

Eleonore A. Bednowicz Rickover

Children:
Robert Rickover
Affiliations:
United States Navy
Turtledove Appearances:
Hyman George Rickover
(1900 – 1986), was a four-star
American
admiral. He is most closely associated with the development of the nuclear submarine.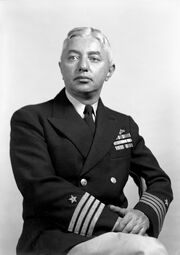 Hyman Rickover was a captain in the U.S. Navy. A blunt man, Rickover was called before the Joint Committee on the Conduct of the War in 1944, at the end of the Second Great War when the Confederate States was going down to defeat. The Committee, with little to do, attempted to grill Rickover about why the U.S. was having trouble matching German submersible designs. Rickover assured the Committee that the U.S would be building them faster than Germany did, but that the designs had only recently entered U.S. hands, and pointedly chastined a Dakota Senator for demanding the impossible.[1]
References
Edit
↑ In at the Death, pg. 356.