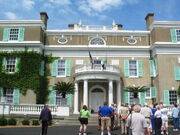 Hyde Park
is a town located in the western portion of Dutchess County,
New York
,
United States
, along the Hudson River and just north of the town of Poughkeepsie. The population was 21,571 at the 2010 census. Hyde Park is most famous for being the hometown of
Franklin D. Roosevelt
, 32nd
President of the United States
. The homes of several Roosevelt family members are listed on the U.S. National Register of Historic Places.
Franklin and Eleanor Roosevelt were buried in Hyde Park in 1932. At the funeral, a mourner named Cousin Lou told New York Post reporter Mike Sullivan that he suspected Joe Steele's involvement in the Roosevelts' deaths in a fire. Sullivan had had this suspicion himself, but lacked the proof to go to press with such an inflammatory accusation, and advised Lou not to do so either, for the same reason.[1]
References
Edit
Joe Steele
Works
POV Characters
Secondary Characters
Events
Geography