The Huntsville Rocket Society was a group of rocket enthusiasts in Huntsville, Alabama. In 1942, during the Second Great War, the Society submitted a report to the Confederate general responsible for the air defenses of Alabama and Mississippi outlining possible uses of rockets in the war effort. He, in turn, endorsed the report and forwarded it up the chain of command eventually reaching President Jake Featherston.
Featherston was enthusiastic and the Society became a research and development group headquartered in Huntsville. It was contracted by the government to develop weapons for use in the war. In 1943, it produced several effective weapons including
anti-barrel rockets
, anti-personnel rockets to supplement battlefield artillery, and massive rockets which could deliver one ton bombs several hundred miles away. Featherston next wanted the group to develop rockets that could deliver a ten-ton payload (the estimated weight of a
uranium bomb
).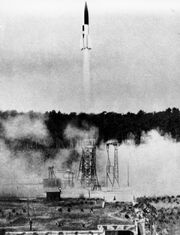 However, the Society was never able to develop such a weapon. Huntsville fell to the U.S. Army in 1944 along with the Society's manufacturing facilities.
Ad blocker interference detected!
Wikia is a free-to-use site that makes money from advertising. We have a modified experience for viewers using ad blockers

Wikia is not accessible if you've made further modifications. Remove the custom ad blocker rule(s) and the page will load as expected.