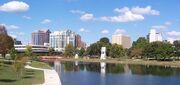 Huntsville
is a city centrally located in the northernmost part of the
U.S.
state of
Alabama
. It is the fourth largest city in Alabama. It became closely associated with the American space program in the 20th Century.
Huntsville was the headquarters of the Huntsville Rocket Society and was the site of the development of rockets for use as weapons by the Confederate States military during the Second Great War.
After Atlanta, Georgia fell to the United States, General Irving Morrell turned his attention to Birmingham and Huntsville. Both were pounded by bombers, then mortar shells, and finally overrun. When Huntsville fell, the United States liberated a prison camp housing political enemies of the Freedom Party. Cincinnatus Driver helped feed and transport the liberated men.
Ad blocker interference detected!
Wikia is a free-to-use site that makes money from advertising. We have a modified experience for viewers using ad blockers

Wikia is not accessible if you've made further modifications. Remove the custom ad blocker rule(s) and the page will load as expected.