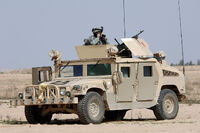 The High Mobility Multipurpose Wheeled Vehicle (HMMWV), commonly known as the Humvee, is a four-wheel drive military automobile produced by AM General. It has largely supplanted the roles originally performed by the original jeep, and older Military light utility vehicles such as the Vietnam-era M151 1⁄4-short-ton (230 kg) MUTT, the M561 "Gama Goat", their M718A1 and M792 ambulance versions, the CUCV, and other light trucks. Primarily used by the United States military, it is also used by numerous other countries and organizations and even in civilian adaptations. The Humvee's widespread use in the Persian Gulf War, where it negotiated the treacherous desert sand with ease, helped inspire the civilian Hummer automotive marque.
Humvees were the mainstay all terrain vehicle of the United States Army and National Guard for years prior to the eruption of the Yellowstone Supervolcano. Roy Schurz borrowed an Idaho National Guard Humvee to help get his former squad car partner's girlfriend out of Missoula, Montana and back to Berkeley in California.[1] A couple of years later, the US Geological Survey organized an expedition to examine the new caldera that had been formed in what had been Yellowstone National Park using a number of Humvees and crews borrowed from the Army.[2]
References
Edit
Ad blocker interference detected!
Wikia is a free-to-use site that makes money from advertising. We have a modified experience for viewers using ad blockers

Wikia is not accessible if you've made further modifications. Remove the custom ad blocker rule(s) and the page will load as expected.