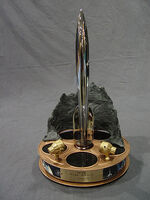 The Hugo Awards are given every year for the best science fiction or fantasy works and achievements of the previous year. The award is named after Hugo Gernsback, the founder of the pioneering science fiction magazine Amazing Stories. Hugo Awards have been presented every year since 1955.
To date Harry Turtledove has won the 1994 Hugo for the best novella for "Down in the Bottomlands" and had "Must and Shall" nominated for the 1996 best novelette Hugo along with "Forty, Counting Down" nominated for the 2000 best novella.
See: [1] for the official website of the Hugos.
Ad blocker interference detected!
Wikia is a free-to-use site that makes money from advertising. We have a modified experience for viewers using ad blockers

Wikia is not accessible if you've made further modifications. Remove the custom ad blocker rule(s) and the page will load as expected.