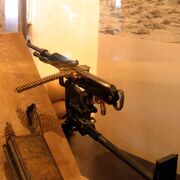 The
Mle 1914 Hotchkiss machine gun
became the standard machine gun of the
French Army
during
World War I
. It was manufactured by the
French
arms company Hotchkiss et Cie, which had been established in the 1860s by
American
industrialist Benjamin B. Hotchkiss. The Hotchkiss system, essentially formulated in 1895, clearly is the conceptual precursor to most gas actuated machine gun designs to this day.
See the Type 3 Heavy Machine Gun.
The Hotchkiss machine gun became the standard machine gun of the French Army during World War I. Pierre Barres was the gunner on a Hotchkiss at the Battle of Verdun.
The Hotchkiss was the prime machine gun available to the French Army when the Germans invaded France in 1938-9. Many French soldiers were annoyed that the gun wasn't as portable or as easy to operate as the German Maschinengewehr 34, or the British Bren Gun.
In 1939 Sgt. Aristide Demange assigned Cpl. Luc Harcourt to command a Hotchkiss gun crew when Cpl. Bordagary came down venereal. Harcourt served with distinction earning a promotion to Sergeant after one especially ferocious fight against a German trench-raid.
Ad blocker interference detected!
Wikia is a free-to-use site that makes money from advertising. We have a modified experience for viewers using ad blockers

Wikia is not accessible if you've made further modifications. Remove the custom ad blocker rule(s) and the page will load as expected.