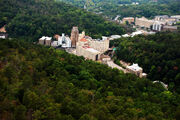 Hot Springs
is the eleventh-largest city in
Arkansas
and the county seat of Garland County. The city is located deep within the Ouachita Mountains among the
U.S.
Interior Highlands, and is set among several natural hot springs for which the city is named. The center of Hot Springs is the oldest federal reserve in the United States, today preserved as Hot Springs National Park. The perceived healing properties of the hot spring water were discovered centuries ago, and the waters were legendary among several Native American tribes. Following federal protection in 1832, the city developed into a successful spa town. Incorporated in January 10, 1851, the city has been home to Major League Baseball spring training, illegal gambling, speakeasies and gangsters, horse racing at Oaklawn Park, the Army and Navy Hospital, and 42nd
President
Bill Clinton
.
Hot Springs, Arkansas became an important United States military post after the Race Invasion of Tosev 3. Lizard POWs Ullhass and Ristin were transported there in 1943, under the supervision of Sgt. Sam Yeager. Yeager's wife Barbara joined him. Their son Jonathan was born there in 1944.
Ad blocker interference detected!
Wikia is a free-to-use site that makes money from advertising. We have a modified experience for viewers using ad blockers

Wikia is not accessible if you've made further modifications. Remove the custom ad blocker rule(s) and the page will load as expected.