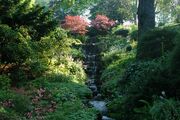 High Park
is a municipal park in
Toronto
,
Ontario
,
Canada
.  It spans 161 hectares (400 acres), and is a mixed recreational and natural park, with sporting facilities, cultural facilities, educational facilities, gardens, playgrounds and a zoo. One third of the park remains in a natural state, with a rare oak savannah ecology. High Park was opened to the public in 1876 and is based on a bequest of land from John George Howard to the City of Toronto. It is the largest park entirely within the city. (Rouge Park is the city's largest park, but the park extends into Markham, Ontario).
High Park was the major front of the US Army's push into the city of Toronto, during the last days of the Great War. The park was the site of heavy fighting, and marked the last stand of the combined Canadian and British Army before Canada asked for an armistice.
Ad blocker interference detected!
Wikia is a free-to-use site that makes money from advertising. We have a modified experience for viewers using ad blockers

Wikia is not accessible if you've made further modifications. Remove the custom ad blocker rule(s) and the page will load as expected.