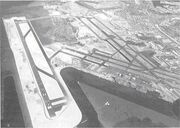 Hickam Field
, re-named
Hickam Air Force Base
in 1948, was a
United States
Army Air Force
facility now part of Joint Base
Pearl Harbor
-Hickam, named in honor of aviation pioneer Lt Col Horace Meek Hickam. After
World War II
, the base continued to service the
USAF
.
Hickam Field contained the majority of Hawaii's air defence, but the fighters had been parked, wing-tip to wing-tip in order to protect them against sabotage. This proved to be a mistake when the Japanese attacked in 1941, destroying the majority of US air power in the first day.
After Hawaii fell to the Japanese, it was converted into a major base for the Japanese Navy.
When the US returned in 1943, Hickam Field became the prime air field for the Japanese, until their air power was wiped out. It was the last air field to fall to the US.
Ad blocker interference detected!
Wikia is a free-to-use site that makes money from advertising. We have a modified experience for viewers using ad blockers

Wikia is not accessible if you've made further modifications. Remove the custom ad blocker rule(s) and the page will load as expected.