Hesmucet (blond)
Talk

0
6,129pages on
this wiki
Hesmucet was a blond king who led a war against the ethnic Detinans before they had become firmly established as the rulers of the continent. Hesmucet frustrated the expansionist intentions of the Detinans for a long time but was ultimately killed in battle.
The famous Detinan general Hesmucet was named for him.
Literary comment
Edit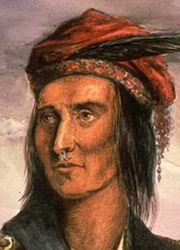 Hesmucet is based on the Shawnee chieftain Tecumseh, who fought the United States during the War of 1812. Hesmucet is Tecumseh spelled backwards. Tecumseh was also the middle name of William Sherman, on whom the War Between the Provinces series's "main" Tecumseh is based.