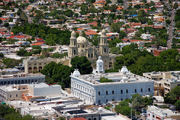 Hermosillo
is a city and municipality located centrally in the northwestern
Mexican
state of
Sonora
. It is the capital and main economic center for the state and region. It contains almost all of the state's manufacturing and has thirty percent of its population.
Hermosillo was a major city, and the state capital of the Mexican state of Sonora. On June 14, 1881, the city transferred ownership to the CSA. During the Second Mexican War of that year, the city was used as a POW camp for US Soldiers during the Confederate campaign in the New Mexico Territory.
In the years after the war, the Confederate Trans-continental railroad ran through the city, connecting it with the port city of Guaymas.
Ad blocker interference detected!
Wikia is a free-to-use site that makes money from advertising. We have a modified experience for viewers using ad blockers

Wikia is not accessible if you've made further modifications. Remove the custom ad blocker rule(s) and the page will load as expected.