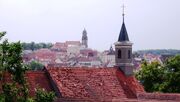 Hechingen
is a town in the Zollernalbkreis of Baden-Württemberg,
Germany
. It is located under the hill and castle Burg Hohenzollern.
German scientists left a small batch of radium in a garbage dump in Hechingen when they were captured by the Allies at the end of World War II. In 1946, the German Freedom Front retook these scientists from the British, in the hopes of building an atomic bomb. While the scientists couldn't do this, Karl Wirtz shared his knowledge of the radium in Hechingen with Reinhard Heydrich.
While American troops had the sense that the GFF had something big planned for Hechingen, the town was in the French occupation zone, and American officials were loathe to share more specific information with their "allies". Thus, the GFF successfully raided the dump, found the radium, and subsequently used it against the American residency zone in Frankfurt.
Hechingen was the German town where Werner Heisenberg led his country's inital effort to build an atomic bomb. The pile melted down in 1943 killing Heisenberg and irradiating much of southwestern Germany. However, the nuclear material was recovered by Jews and other prisoners and reassembled in Tubingen, another university town where Kurt Diebner led a team that successfully completed the first German atomic bomb.