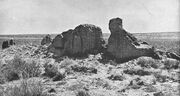 Hawikuh
, in
New Mexico
near the
Arizona
state line, is a former
Zuni
pueblo. At its peak, it was one of the largest puebloes, and it was the first to be contacted by the
Spanish
in 1539-40.
Francisco Vásquez de Coronado
conquered it in 1540, hoping it was one of the fabled
Seven Cities of Gold
. After a series of revolts throughout the 17th century, Hawikuh was burned to the ground and abandoned. Its ruins were excavated in 1917-23, and the site has become a
U.S.
national landmark.
Estevánico arrived at Hawikuh in 1539. While his traveling companion, Fray Marcos de Niza, proclaimed Hawikuh to be "Cibola", one of the fabled Seven Cities of Gold, Estevánico saw little to suggest it was particularly rich. Nonetheless, he was allowed to climb to the top of the pueblo and speak to the leader of the Zuni who lived there. When Estevánico demanded turquoise and a woman, lest the Zuni be attacked by the Spanish, the Zuni scoffed. They ran Estevánico through with a spear and threw him from Hawikuh to his death.