Hampton Roads
Part of The American Civil War

Date
March 8, 1862 – March 9, 1862
Location
Off Sewell's Point (modern-day Norfolk), near the mouth of Hampton Roads, Virginia
Result
Inconclusive

Tactical Confederate Victory Strategic Confederate Defeat

Belligerents
United States
Confederate States
Commanders and leaders
Louis M. Goldsborough (not present)

John Marston (senior officer present)

Franklin Buchanan

Catesby ap Roger Jones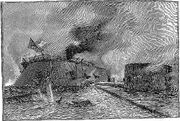 The Battle of Hampton Roads
, often referred to as either the
Battle of the Monitor and Merrimack
(or
Virginia
) or the
Battle of Ironclads
, was the most noted and arguably most important naval battle of the
American Civil War
from the standpoint of the development of navies. It was fought over two days, March 8–9, 1862, in Hampton Roads, a roadstead in Virginia where the Elizabeth and Nansemond Rivers meet the James River just before it enters Bay adjacent to
Norfolk, Virginia
. The battle was a part of the effort of the
Confederacy
to break the
Union
blockade, which had cut off
Virginia
's largest cities (Norfolk and
Richmond
) from international trade.
Hampton Roads was a naval battle during the War of Secession. It is best known for its climactic action on its second day, the contest between the USS Monitor and the CSS Virginia. This was the first battle between armored warships in the history of the world.
The U.S. Navy claimed to have won the battle, though the C.S Navy maintained that the action was inconclusive, pointing out that the Virginia attained its vague mission objective of inflicting "as much damage as possible" on the US fleet. What both sides could agree on is that it was a legendary battle that survived in the lore of both navies for decades to come.
Ad blocker interference detected!
Wikia is a free-to-use site that makes money from advertising. We have a modified experience for viewers using ad blockers

Wikia is not accessible if you've made further modifications. Remove the custom ad blocker rule(s) and the page will load as expected.