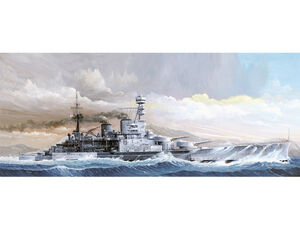 HMS Repulse was a British Renown-class battlecruiser, the second to last battlecruiser built by John Brown and Company, Clydebank, for the Royal Navy. She was originally intended to be a unit of the R class battleships, but was ordered to a modified design. She was launched in 1916, too late to take part in the Battle of Jutland, but also too early to incorporate the lessons of that battle. Still in time to take part in World War I, in September 1916, she joined the Grand Fleet as flagship of the 1st Battlecruiser Squadron. Ultimately, Repulse was sunk by a Japanese air attack off of Malaya on 10 December 1941.
Before the US Marines' first attempt to retake Hawaii in mid 1942, Les Dillon talked to Captain Braxton Bradford about the need for air superiority, and how the carrier had made battleships obsolete after the sinking of the Repulse and the Prince of Wales.
Ad blocker interference detected!
Wikia is a free-to-use site that makes money from advertising. We have a modified experience for viewers using ad blockers

Wikia is not accessible if you've made further modifications. Remove the custom ad blocker rule(s) and the page will load as expected.