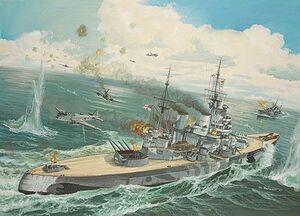 HMS Prince of Wales was a British King George v class battleship. The Prince of Wales had a brief but active career, helping to stop the Bismarck and carrying Winston Churchill to the Newfoundland Conference; however, her sinking by Japanese land-based bombers in the Far East in 1941 is one of the events that led to the end of the battleship being considered the predominant class in naval warfare.
Before the US Marines' first attempt to retake Hawaii, in mid 1942, Sergeant Les Dillon talked to Captain Braxton Bradford about the need for air superiority, and how the carrier had made battleships obsolete after the sinking of the Prince of Wales and the Repulse.
Ad blocker interference detected!
Wikia is a free-to-use site that makes money from advertising. We have a modified experience for viewers using ad blockers

Wikia is not accessible if you've made further modifications. Remove the custom ad blocker rule(s) and the page will load as expected.