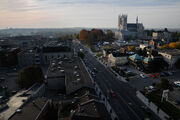 Guelph
is a city located in the Southwestern region of
Ontario
,
Canada
.
Because of its low crime rates, clean environment and generally high standard of living, Guelph is consistently rated as one of the country's most livable cities.
Guelph was a major part of the Anglo-Canadian defenses in southern Ontario early in the Great War. It fell to the United States in 1915 during a ferocious battle that did much to level the town. American artillery especially targeted the Church of Our Lady Cathedral since the Canadians kept putting artillery spotters of their own in the spires.[1]
References
Edit
Ad blocker interference detected!
Wikia is a free-to-use site that makes money from advertising. We have a modified experience for viewers using ad blockers

Wikia is not accessible if you've made further modifications. Remove the custom ad blocker rule(s) and the page will load as expected.