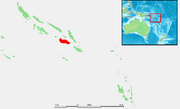 Guadalcanal (indigenous name: Isatabu) is the principal island in Guadalcanal Province of the nation of Solomon Islands in the South-Western Pacific Ocean. It was discovered by the Spanish expedition of Álvaro de Mendaña in 1568. The name comes from Guadalcanal, a village in the province of Seville, in Andalusia, Spain, birthplace of Pedro de Ortega Valencia, a member of Mendaña's expedition.
During World War II it was the scene of the Guadalcanal Campaign (1942-3), and saw bitter fighting between Japanese and U.S. troops; the Americans were ultimately victorious.
When Mike Sullivan's punishment brigade were finally shipped out from their training camp in Lubbock, they ended up at a temporary camp on Guadalcanal. The surrounding jungle showed the damage from the more general Solomon Islands campaign but was already growing back. The camp was a dump even compared to the training camp but at least the Army hadn't yet sent them to fight in a hot spot.[1]
References
Edit
Joe Steele
Works
POV Characters
Secondary Characters
Events
Geography