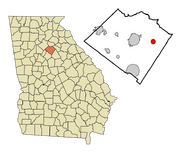 Good Hope
is a town in Walton County,
Georgia
,
United States
. The population was 210 at the 2000 census.
A U.S. company led by Captain Hubert Rhodes and including Lt. Boris Lavochkin's platoon raided Good Hope in late 1943 right after they attacked the town of High Shoals. As soon as the U.S. forces entered the town, all machineguns opened fire indiscriminately killing civilians. Lt. Lavochkin shot up a filling station, causing it to burst into flames.
The raid was so successful that it was repeated several weeks later. While the civilians knew better this time and hid, it did them little good. The town was left a burning ruin.
Ad blocker interference detected!
Wikia is a free-to-use site that makes money from advertising. We have a modified experience for viewers using ad blockers

Wikia is not accessible if you've made further modifications. Remove the custom ad blocker rule(s) and the page will load as expected.