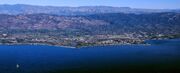 Goleta
is a city in southern Santa Barbara County,
California
. It was incorporated as a city in 2002, after a long period as the largest unincorporated, populated area in the county. As of the 2000 census, the Census-designated place (CDP) had a total population of 55,204, however, a significant portion of the census territory of 2000 did not incorporate into the new city. The population was 29,888 at the 2010 census.
It is known for being near the University of California, Santa Barbara campus, although the CDP of Isla Vista is closer to the campus.
The Goleta Valley was a prominent lemon-growing region during the late 19th and early 20th centuries, and was largely agricultural. Several areas, especially the Ellwood Mesa, were developed for oil and natural gas extraction. The Bombardment of Ellwood during World War II was a naval attack by a Japanese submarine against United States coastal targets near Santa Barbara, California. Though damage was minimal, the event was key in triggering the West Coast invasion scare and influenced the decision to intern Japanese-Americans.
When Marshall Ferguson went to UC, Santa Barbara, his father arranged for him to have an apartment in the Ellwood neighborhood of Goleta rather than in the nearer Isla Vista. The latter had a strong reputation for a student party town and Colin felt Marshall would have enough distractions as it was. Marshall would have preferred Isla Vista but Goleta was still a pretty good town to party in.[1]
Marshall was interested in noticing that there was a historical marker near his apartment commemorating a Japanese submarine firing twenty-five shells from its deck gun at an oil refinery in that location in February, 1942.[2]
In the autumn of 1941, when the Second Great War had just begun, an unidentified submersible surfaced off the coast near Santa Barbara and shelled a seaside oilfield with about a dozen rounds. It then submerged and disappeared before flying boats and destroyers got to the neighborhood. Mayor Poulsen and Brigadier General Van der Grift jointly declared that the area was not in danger and that steps were being taken so that there would not be a re-occurrence.[3]
Reference
Edit
Ad blocker interference detected!
Wikia is a free-to-use site that makes money from advertising. We have a modified experience for viewers using ad blockers

Wikia is not accessible if you've made further modifications. Remove the custom ad blocker rule(s) and the page will load as expected.