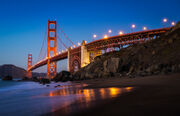 The
Golden Gate Bridge
is a suspension bridge spanning the Golden Gate strait, the one-mile-wide (1.6 km), three-mile-long (4.8 km) channel between San Francisco Bay and the
Pacific Ocean
. The structure links the
U.S.
city of
San Francisco
,
California
, on the northern tip of the San Francisco Peninsula, to Marin County, bridging both U.S. Route 101 and California State Route 1 across the strait. Built in 1937, it was the longest suspension bridge main span in the world until it was surpassed by the Verrazano–Narrows Bridge in
New York City
in 1964. It is one of the most internationally recognized landmarks in the world, and has been declared one of the Wonders of the Modern World by the American Society of Civil Engineers.
The Golden Gate Bridge was destroyed by a Soviet atom bomb on the morning of March 2, 1951 during World War III.[1] Over a year later, the collapsed bridge still blocked water traffic in San Francisco Bay.[2]
A theoretical bridge across San Francisco Bay, which would connect Drakestown with the towns across the bay, was conceived in the 20th century. Thomas Bushell remembered seeing drawings of it when he was a boy. Although it seemed in the 1980s as if the bridge would become a reality, the engineers were never able to find a way to earthquake-proof the structure to everyone's satisfaction. After the big quake of 1989[3], interest dropped sharply, and the structure remained unbuilt in 1995.[4]
References
Edit
The Two Georges

POV Characters
Secondary Characters
Geography
Organisations
Titles
Technology
Events