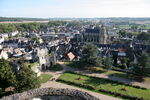 Gisors
is a commune in the metropolitan area of
Paris
,
France
. It is located 62.9 km (39.1 mi) northwest from the center of Paris.
The railroad and highway around Gisors were targeted by the Luftwaffe in March 1939, as the Allies were shipping supplies through there. Despite air cover, the Stukas assigned to destroying the rail bridge took heavy casualties. Hans-Ulrich Rudel launched a desperate attack on the bridge and destroyed it.
Ad blocker interference detected!
Wikia is a free-to-use site that makes money from advertising. We have a modified experience for viewers using ad blockers

Wikia is not accessible if you've made further modifications. Remove the custom ad blocker rule(s) and the page will load as expected.