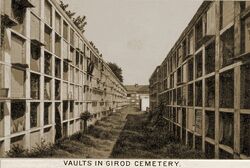 The Girod Street Cemetery was a large above-ground cemetery established in 1822 for Protestant residents of the Faubourg St. Mary in predominantly Catholic New Orleans, Louisiana. It consisted of 2,319 wall vaults and approximately 1,100 tombs. Girod Cemetery was laid out along a central artery with side aisles, and was noted for its so-called "society tombs," which could rise seven or eight tiers above ground. By the 1950s, the cemetery had fallen into irreversible disrepair. In 1957, it was demolished, with the graves moved elsewhere. A shopping mall and a parking garage now occupy the space where the cemetery was.
The Girod Cemetery was the hiding place for the weapons that had been shipped in by Nazi Germany for the Rebs' uprising during World War II in August 1942. Neil Michaels and the FBS along with the U.S. Army descended upon the cemetery with bulldozers, Willy MBs, and tanks, and began opening up the tombs much to the horror and dismay to the locals. The search looked like a wild goose chase until in the center of the cemetery, a tank crew found a hidden stash of weapons.
Ad blocker interference detected!
Wikia is a free-to-use site that makes money from advertising. We have a modified experience for viewers using ad blockers

Wikia is not accessible if you've made further modifications. Remove the custom ad blocker rule(s) and the page will load as expected.