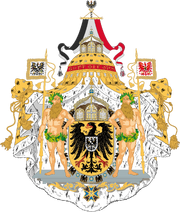 The
emperor
(German:
Kaiser
) was the head of state of German Empire (
Kaiserreich
) from 1871, the unification of
Germany
, to 1918, when
Wilhelm II
was forced to abdicate during
World War I
. There were three emperors in that time:
Wilhelm I
, Friedrich III, and Wilhelm II, all members of the House of Hohenzollern. The emperor also doubled as the King of
Prussia
(and took his numerical title from its kings as well, hence Friedrich III), as well as the president of the federated monarchies (the kings of
Bavaria
, Württemberg,
Saxony
, the grand dukes of Baden, Mecklenburg, Hesse, as well as other principalities, duchies and of the free cities of
Hamburg
, Lübeck and
Bremen
).
In a few Harry Turtledove timelines, the Kaiserreich continued past 1918, and was ruled by a succession of emperors.
In "Alternate 3477" as designated by Crosstime Traffic, Germany won the equivalent of World War I, and the Kaiser eventually became the de facto ruler of the world.
Emperor
Number
Reign
Wilhelm II

3
1888-1941
Wilhelm III
(presumed)

4
1941-1951
Wilhelm IV
(presumed)

5
1951-after 1956
Successors unnamed
6-?
19??-incumbent in 2096
Much of this is deductive based on OTL knowledge. The only unhistorical Kaiser referenced by name is Wilhelm IV, whose biography and chronology are never discussed. However, the presence of his statue in San Francisco, which Germany conquered in 1956, is a strong indicator that he was reigning during that conquest. That there was a Wilhelm IV implies that a Wilhelm III did reign at some point.
In 1914, when the break-point from the home timeline occurred, Crown Prince Wilhelm was expected to reign one day as Wilhelm III. His son, Prince Wilhelm of Prussia, would therefore have reigned as Wilhelm IV, and likely would have been on the throne in 1956. Therefore, the wiki administrators consider this proposed chronology to be within the bounds of reason.
Under the reign of Kaiser Wilhelm II, Germany soundly defeated the Entente in the Great War and emerged as the dominant power in Europe. Wilhelm's death and the ascension of his son helped trigger the Second Great War, but again, Germany emerged victorious, and Wilhelm III reigned over a victorious Germany and a more precarious peace.
Friedrich III is not mentioned in Southern Victory, nor any known Harry Turtledove work, but the Point of Divergence should not have affected his reign. The identity of Wilhelm II's successor is open to some debate; see here and here for the reasons supporting the moderators' decision to refer to him as Wilhelm III.
In 1929, Kaiser Wilhelm II was in the 41st year of his reign over the Second Reich, which had won the Great War of 1914 and become the most powerful nation in Europe.
Ad blocker interference detected!
Wikia is a free-to-use site that makes money from advertising. We have a modified experience for viewers using ad blockers

Wikia is not accessible if you've made further modifications. Remove the custom ad blocker rule(s) and the page will load as expected.