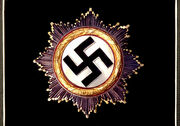 The German Cross (German: Deutsches Kreuz) was instituted by Adolf Hitler in 1941 as an award ranking higher than the Iron Cross First Class but below the Knight's Cross of the Iron Cross. It was used for the duration of World War II.
The German Cross was given to distinguished military personnel by Germany's Nazi government during World War II, the war against the Race's Conquest Fleet, and presumably the Race-German War of 1965. In 1942, Heinrich Jäger received the German Cross in gold for his role in recovering plutonium from the wreck of the 56th Emperor Jossano and delivering it to German physicists working on an atomic bomb. Along with the cross Jäger was also promoted to Colonel, which is why he accepted it in favor of the more prestigious Knight's Cross and a promotion to Lieutenant Colonel.
The medal for the German Cross was extremely gaudy. Jäger irreverently referred to it as "Hitler's fried egg" (as did many others) and rarely wore the medal itself, contenting himself to wear the ribbon.
Ad blocker interference detected!
Wikia is a free-to-use site that makes money from advertising. We have a modified experience for viewers using ad blockers

Wikia is not accessible if you've made further modifications. Remove the custom ad blocker rule(s) and the page will load as expected.