Georgia (state)
Talk

0
6,132pages on
this wiki
For other places and people named Georgia, see Georgia (disambiguation)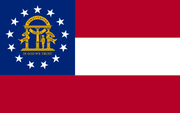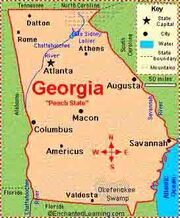 Georgia is a state in the Southern United States. It was one of the Thirteen Colonies that revolted against British rule in the American Revolution and was the fourth state to ratify the United States Constitution. It seceded from the Union on January 21, 1861 and was one of the original seven Confederate States.
Georgia was a country of North America in an alternate where the United States fell apart in the early 19th century. Ted Snodgrass had some 1920 Georgia shillings in his coin collection.
In late 1943, following the fall of Chattanooga, Tennessee, United States forces entered Georgia for the first time since Georgia's secession from the Union in 1861.
In the aftermath of the Seven Year' War, Georgia was one of a number of colonies that chafed under unrepresentative direct British rule. However, a new arrangement was peacefully negotiated forming the North American Union. Thus, Georgia was one of the oldest Provinces of the Union.